With a massive day of earnings, Treasury yields are rebounding slightly ahead of the GDP report that economists expect to decline sharply over the prior month. In addition, China's real estate crisis seems to be getting worse with a 4th developer default and reports that their economy could slide into stagflation. However, with the palpable anticipation of AAPL and AMZN earnings after the bell, we could easily shrug all that off as the bulls keep running. The party was incredible, but let's hope theirs not a hangover just around the corner!
Asian markets had a bearish night closing in the red across the board, with the Nikkei leading the way after the Bank of Japan holds steady on monetary policy. European markets trade mixed this morning as they wait on a rate decision from the ECB. However, U.S. futures press for a bullish open ahead of significant tech earnings, GDP, and Jobless data. So prepare for another hectic day of silly season speculation.
Economic Calendar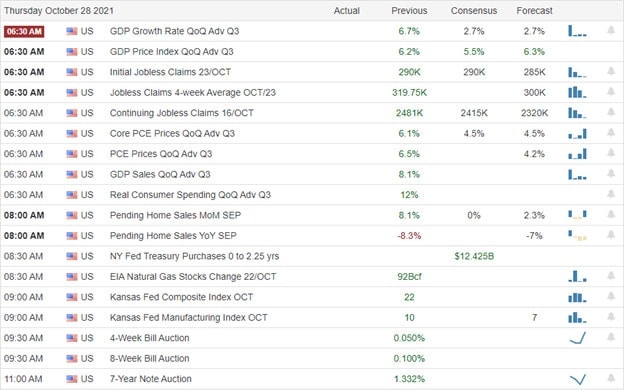 Earnings Calendar


Thursday is our busiest day of the week, with nearly 225 companies reporting. Notable reports include AMZN, AAPL, FLWS, MO, ABEV, AMT, BUD, BAX, CARR, CAT, CMCSA, DVA, DXCM, EGO, FE, GLPI, GILD, HSY, HTZZ, ITW, ICE, KDP, LH, TREE, LEN, MA, MPW, MRK, MDP, MSTR, TAP, NEM, NOK, NOC, ORI, OSTK, PBR, RLGY, RSG, SNY, SGEN, SHOP, SIRI, STAG, SBUX, TROW, TAK, TXRH, X, VALE, VRSN, WST, WDC, YUM, & ZEN.
New & Technicals'
Ford nearly doubled Wall Street's earnings expectations and slightly beat revenue projections for the third quarter. The results led the automaker to increase its annual guidance for the second time this year. Ford said increased availability of semiconductor chips and higher vehicle shipments in the third quarter enabled it to post higher-than-expected results. The Anglo-Dutch company posted adjusted earnings of $4.1 billion for the three months through to the end of September. Compared with $955 million over the same period a year earlier and $5.5 billion for the second quarter of 2021. Analysts had expected third-quarter adjusted earnings to come in at almost $6 billion, according to Refinitiv. President Joe Biden has made last-minute plans to attend a House Democratic caucus meeting on Thursday morning, CNBC confirmed late Wednesday. Biden plans to personally appeal to the party's progressives to vote for the stalled infrastructure bill already passed the Senate. The risk of stagflation is "very real" in China over the next few quarters, said Charlene Chu, senior analyst for China macro-financial at Autonomous Research. A high producer price index and power crunch have made it difficult for Beijing to stimulate the economy aggressively, said Chu. In addition, the slowdown in the real estate sector has "very severely" hit China's economic growth, but confidence in the primary property market is not yet collapsing, she said.
Treasury yields are edging slightly higher this morning ahead of the GDP report that analysts suggest could decline sharply to 2.7% vs. the 6.7% reading just one month ago. As a result, the 10-year rose to 1.55%, and the 30-year rallied to 1.9527%. The Nasdaq rallied strongly yesterday to briefly touch a new record pulling back to leave the second shooting star pattern behind in as many days. However, we have a massive day of earnings that is likely to keep the bull's fire burning with the highly anticipated reports from AAPL and AMZN after the bell. That said, we first have to make it through GDP, and Jobless Claims data, but with the wild earnings fervor going on this season, we could just ignore them like the declining Durable Goods from yesterday. Once again, be careful chasing extended stocks and don't rule out a continued pullback in the DIA and IWM.
Trade Wisely,
Doug