Disappointing home sales and mortgage data produced a bullish but choppy price action as the indexes remained in a short-term extended condition. Traders and investors will have to grapple with our most significant day of earnings so far this quarter, as well as Jobless Claims and the Philly Fed MFG data. We may also see a market reaction to the pending ECB rate decision as they begin fighting record inflation. Bullish earnings speculation remains strong but be careful not to overtrade and take some profits with the FOMC and GDP coming our way next week.
Asian markets traded mixed overnight as the Bank of Japan held trades steady. European markets trade mixed with muted results as they wait on the ECB rate decision. With a big day of market-moving data ahead, U.S. futures suggest a mixed open as I write this report but prepare for about anything as the market reacts to the results. Market emotion is high, so don't rule out the possibility of some significant point swings.
Economic Calendar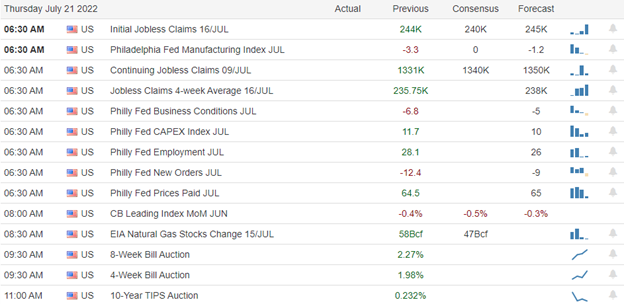 Earnings Calendar


We have our most hectic day of the week on the earnings calendar, with more than 70 companies listed. Notable reports include ABB, ALK, AAL, T, AN, DHI, DHR, DPZ, DOV, FITB, ISRG, KB, NOK, NUE, PM, SAP, & TRV.
News & Technicals'
According to reports, the European Central Bank could go big on its first rate hike in 11 years. A new anti-fragmentation tool and a sizeable rate hike would come as the ECB deals with its primary mandate: price stability. The eurozone inflation print for June came in at 8.6%, up from 8.1% in May, and German producer prices in June were 32.7% higher than a year earlier. There had been concerns across the region that there could be a complete shutdown of gas supplies via the pipeline after it was closed earlier this month for maintenance. However, data on operator Nord Stream's website showed that flows increased from zero to 29,284,591 kWh/h for 0600-0700 Central European Time Thursday. On July 10, the last day of operations before the maintenance work began, flows were roughly the same level, just above the 29,000,000 kWh/h. Speaking to Parliament, Draghi said he was going to speak to President Sergio Mattarella and inform him of his intentions after failing to unite his fragile coalition government. Last week, Mattarella rejected Draghi's first resignation and asked him to lead more negotiations with lawmakers in the hope of avoiding snap elections. United Airlines on Wednesday notched a key profit milestone in its pandemic recovery. However, it said it will scale back its growth plans through 2023. Airlines have reported strong demand as well as high costs for fuel and other expenses. Microsoft eases hiring as economic concerns affect more of the tech industry but declined to specify which divisions will slow the hiring pace. The company lowered its quarterly earnings guidance in June but attributed the move to changing exchange rates. The Asian Development Bank has cut the growth forecast for China due to concerns over the country's zero-Covid approach and strict lockdowns, which have also impacted its troubled property market. As a result, gross domestic product growth for the world's second-largest economy is expected to be at 4% in 2022, down from an earlier estimate of 5%, ADB said in a report published Thursday. China's continued "adherence to a zero-covid strategy in response to renewed outbreaks early in 2022 has triggered the reimposition of strict lockdowns," the bank wrote in its report. Treasury yields rose slightly in early Thursday trading, with the 2-year inverted trading at 3.23%, the 5-year at 3.18%, the 10-year at 3.04%, and the 30-year at 3.17%.
The short-term extended condition of the market, disappointing housing data, and some mixed earnings results produced a choppy day of price action, but overall the bulls won the day. However, today will be our biggest day of earnings results so far this quarter which means anything is possible as traders react. We also face a pending ECB rate decision; Jobless Claims that have recently experienced a slow creep upward as well as Philly Fed MFG data. Unfortunately, the rising bond yields and 2/10 inversion continue to suggest a recession adding an element of uncertainty despite the hopeful bullishness of the recent relief rally. So continue to expect challenging price action with overnight gaps and reversals in the days and weeks ahead.
Trade Wisely,
Doug