During the evening and night, we saw just how sensitive to news reports and how emotionally charged the market has become over China's trade developments. While the markets seem to hold on the notion of a partial deal coming together in the high-level talks, reports suggest the 2-day meeting may have shortened to just today. Stay tuned, stay focused, and stay very directionally flexible as each new report could substantially move the market violently. Plan your risk carefully.
Asian markets recovered early losses by the close of the day on conflicting reports regarding trade. European markets are trade cautiously mixed as negotiations resume in Washington DC. US Futures recovered from steep losses during the evening and indicated just how quickly market sentiment could shift as news on progress or non-progress of the negotiations rolls out. Remember, an October tariff increase to 30% will happen unless something changes with the US/China relationship.


On the Calendar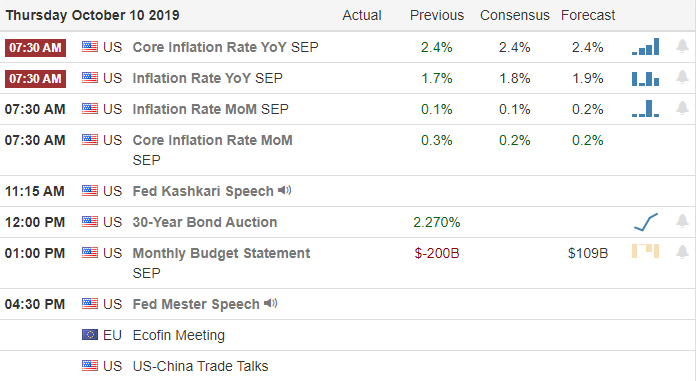 On the Thursday Earnings Calendar, we have our biggest day of reports this week, with 25 companies fessing up to results. However, there is only one DAL, which is reporting before the opening bell that's notable.


Action Plan
Conflicting news reports created a wild night of price action that saw futures collapse more than 200 points but recovered to near falt this morning. That's a clue to just how emotionally charged and sensitive the market has become over any news on the high-level talks today. It sounds as if the China negotiations may start and end today rather than the planned 2-day schedule. What we know as of now is that tariffs on 250 billion dollars of Chinese products will increase from 25% to 30% on October 15th.


Traders should prepare for the possibility of very violent price moves as news comes out concerning the progress of the talks. Technically, speaking the indexes are at a critical crossroads, with prices hanging just below declining 50-day moving averages and substantial price resistance just above. With such unstable price moves, this can become a day-traders market due to will price action fluctuation and the overnight reversal risks. Carefully plan your risk and remain very directionally flexible as we wait for news on trade negotiation developments throughout the day.
Trade Wisely,
Doug