Big Resistance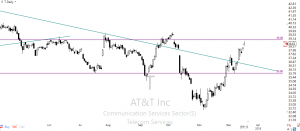 Friday's free trade in PSEC is working out nicely.  Those that took the trade should have a nice little profit as it bounces off of support.  Today I'm looking a counter-trend trade running into Big Resistance.
T is on a very nice bull run but has run headlong into a big price resistance level.  I am not looking for a big selloff, I'm only looking for T to stay below 39 for a short-term pullback in reaction to the resistance.  Consider buying the 22 DEC 39 Puts to take advantage of a small swing lower.
Recently Closed Trades
CSCO 17% • BAC 31% • CREE 48% • WMT 245% • NFLX -40% • STX 42% • 2nd CSCO Trade 30%
Today's Market Prep Note
Yesterday we saw some selling on worries the Tax Reform bill would not get finished up.  This morning sentiment quickly changes as news of a vote and passage could happen as early as today.  I hate politically driven markets because as retail traders our edge simply disappears into the spinning black hole of the news cycle.  Futures are not pointing to a significant gap up that will put a lot of pressure on those that got short early.  Let's keep in mind that a Dow 25,000 print is not that far away so don't expect the bulls to give up easily.  Perhaps the passage of tax reform is all the fodder needed to encourage the bulls to push higher.  I think the road ahead could be a bit bumpier than we have seen this week.  Plan carefully and remember to take profits.
Become a Member Today!
30 Day Trial     Monthly     Semi-Annual     Annual
Investing and Trading involves significant financial risk and is not suitable for everyone. No communication from Hit and Run Candlesticks Inc. is financial or trading advice. All information is intended for Educational Purposes Only.  Terms of Service.
Doug Campbell is not a licensed financial adviser, nor does he offer trade recommendations or advice to anyone except for the trading desk of Right Way Options Inc.